Join us for exciting German language movies this semester! The films are in German with English subtitles.
Merten Hall 1202, 7-10 pm
1. Tuesday, October 27: Goodbye Lenin!
2. Wednesday, October 28: The Lives of Others
Thursday, October 29: Berlin is in Germany
The films will be introduced by Professor Mills Kelly.
Light refreshments will be served.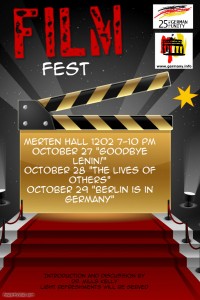 .
---
Enjoy the recent films from Germany, Austria and Switzerland at the Film Neu Festival in DC (November 6-12). For information, click here.